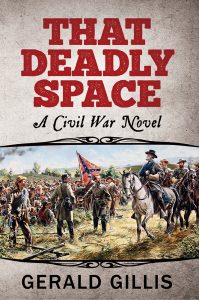 That Deadly Space, my new historical novel concerning the Civil War, is now available in paperback and Kindle with this Amazon link.
Below is a brief description of That Deadly Space:
The Civil War has begun in earnest. Conor Rafferty joins the Confederate army as a young infantry officer against the wishes of his father who, in his Irish anger, is adamantly opposed to a war with the North. Conor soon finds himself in many of the war's most consequential battles, leading from the front and risking all inside that deadly space. He serves with distinction in General Robert E. Lee's celebrated Army of Northern Virginia as it seeks the crowning victory that will end the war and stop the carnage. Along the way, Conor becomes a protégé of fellow Georgian John B. Gordon who eventually rises to command a Confederate army corps. At the conclusion of each chapter, the narrative transitions to the now aged Conor who answers the probing questions of his grandson Aaron, himself a captain in the U.S. Army and scheduled for duty in Europe during World War I. The grandfather and grandson thus spend a week together—a week of sharing, learning, and bonding. That Deadly Space is a compelling tale that portrays the drama, heroism, romance, and tragedy of the Civil War.
For the Civil War aficionados among you, you may recognize the Don Troiani cover. I was delighted to be able to use it with this novel.
For those of you who are intent upon purchasing That Deadly Space, I say thank you. And for those who have supported me in the past with my other novels, a heartfelt thank you, as well. As always, book reviews posted on Amazon are always appreciated by authors, this one included.
Good reading!
Gerald